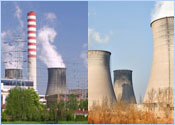 Beginning from 1 July 2007 the electricity market was liberalized, and now all businesses and households are able to change the energy seller. Institutional recipients already had the opportunity to do so two years earlier, but for procedural reasons a very few decided on such a step.
For institutional recipients energy prices have been fully released, while energy prices for consumers are still regulated by the Energy Regulatory Office.
To change the energy seller in the optimal way we undertake for you necessary steps. That is their scope:
analysis of electricity consumption,
assessment of the connection to the electricity grid,
analysis of the current agreement with the Power Station,
analysis of the settlement with the Power Station,
optimizing cost of purchasing electricity, including the negotiations with the current energy supplier,
assessment of the cost-effectiveness and the selection of the best energy supplier,
the selection of the appropriate tariffs,
mediation or assistance in handling all the formalities of signing contracts and determining the conditions of the energy supply.
All Enis proposals take into account an energetic security of our customers and produce measurable savings.
If you are interested in choosing the best energy seller, please contact us.