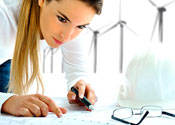 ENIS's ecological mission led us in the direction of designing: architecture, lighting, illumination, as well as electro-electric installations. Design allows us also to reach our goals. The logic is as follows: the design phase is the base for every ecological and energy-efficient final solution.
Design is our passion, which we are trying to focus on the expectations and needs of customers. In our projects, depending on their type, we are guided primarily by such rules as:
functionality,
ease of use,
energy efficiency,
safety,aesthetics,
good visibility (for lighting design),
adaptation to the needs of users,
adaptation to functional use of objects and properties,
optimization of costs relative to benefits.
In the entire design process, we try to include as much as possible the expectations and needs of our customers by providing the possibility of a preliminary evaluation of projects, design visualization and technical concepts. Direct contact with clients is our firm foundation for a good and effective project that will pay off in the future for both our company and for each client.
ENIS's team has the technical expertise, which takes into account the expectations of our customers, their financial capabilities, as well as efficient and modern solutions in every industry.
If you are interested in individual and yet energy-efficient building design, lighting or electrical energy installations, please contact us.