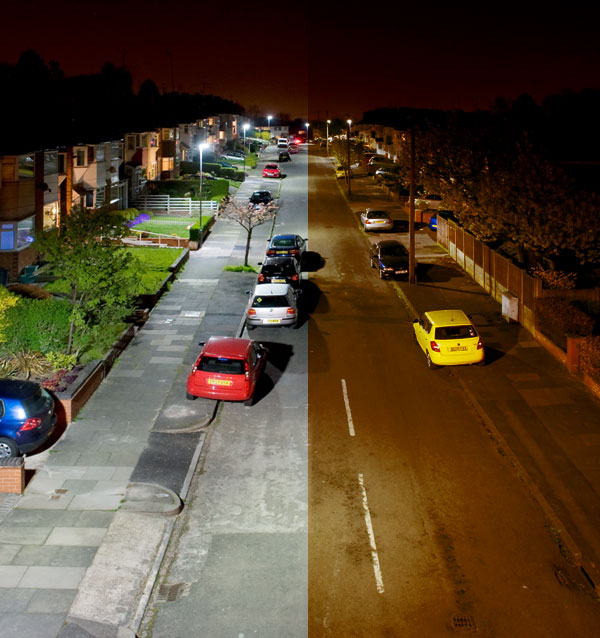 Modernization of lighting is usually associated with reduction of the cost of electric energy. It is, indeed, one of the most effective ways for obtaining savings, especially in case of obsolete and non-functional lighting systems. However, the reconstruction of the lighting systems may bring many benefits, depending on of the type and extent of the planned modernization.
Depending on the condition of the existing lighting system and available financial means, modernization of lighting system can include:
exchange of luminaries into energy efficient lighting - the basic element of modernization, bringing almost immediate benefits,
the installation of optimal luminaries in relation to its purpose - minimizing the incorrectly distributed light by installing luminaries that illuminate the definite points - without unnecessary lighting up or to the side (to prevent light pollution),
installation of smart lighting control systems – innovative and complementary element of the modernization of street lighting (a lot of light points). That enables the optimal use of lighting resources.
The modernization of luminaries can bring multi-directional benefits, including:
reduced costs of the electric energy and the functioning of the entire system,
reduced costs of servicing the lighting system,
increased comfort of monitoring and servicing the lighting systems,
adaptation the quality of light to the space, which is to illuminate,
edification on the environment by reducing carbon dioxide emissions into the atmosphere,
increased comfort of the users, both in the case of external lighting (well illuminated objects on the road, reduction of obtrusive light) and indoor lighting (reducing eye fatigue),
increased safety of road users, especially pedestrians,
improved image and appearance of the city.
Every investment in the modernization of the lighting must be adapted to the specific conditions of a particular investment. The investment should:
be partial or complete – depending on the existing condition and needs,
include accurate inventory of resources (infrastructure, location and land area, the needs of the users),
be adapted to the individual conditions of lighting location (e.g. street, office building, educational building, etc.),
ensure to the current regulations and standards,
adapt operation of the system to time of the day or night,
try to use the existing repairs and reconstructions to modernize lighting, for costs minimization.
The professionally and reliably performed preliminary analysis and investment realization, may bring up to 100% return to of investment costs over several years. The new funding opportunities (for 2014-2020) have begun, which may additionally rise investment effectiveness (in the case of public investment or companies).
The ENIS specialists guarantee:
performing a thorough and reliable initial inventory,
developing the complete conception of modernization works and preparing the cost analysis,
realization the complete technical design,
selection of optimal and energy efficient equipment,
complete realization of investment.
If you are interested in our services, please contact us.