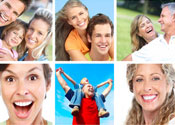 Enis - Energy and Environment specializes in finding various methods of saving and encourages the use modern technology. The scope of our services and expertise is in particular:
energy efficient lighting,
the use of renewable energy - solar and wind,
solar panels,
hybrid heating,
biomass heating,
heat pumps, recuperators.
The common sense is the most important thing, therefore, we encourage you to undertake only those activities that produce measurable economical impact and not just apparent savings.
The cheapest way to reduce the electricity bill is the use of energy-efficient lighting. Instead of simple bulbs you can use compact fluorescent light bulbs (CFL) what is energy efficient light bulbs. Instead of halogens illuminating the area around the buildings you can use discharge lamps, for example, meta-haloid or sodium discharge lamps. Such applications of energy-efficient lighting will reduce energy bills by up to 75%. In addition, the durability of fluorescent or discharge lamps, is much longer than ordinary light bulbs.
Changing the energy supplier can also reduce our bills. However, at present, the price differences between vendors are very small. This kind of small savings per year for a household is not cost-effective according to the difficult procedure of changing the seller.
The reduction bills for the heat is often connected with additional investments. Changing energy carries for example from gas into wood can bring significant savings on the cost of heating the house, nevertheless, it is necessary to bear additional expenses related to the adaptation of existing installations in order to use new, clean fuel.
In other cases, the reimbursement of investments connected with renewable energy in households is very long. That's why it is worth to consider all the options while planning construction of the house and decide on low energy investments.
To wisely manage energy in households, we offer you the following:
Advice on energy-saving solutions.
Designing installations aimed at rational energy management.
Supervision of the correct realization.
The European Union does not provide any grants for the investments connected with the use of renewable energies for individual customers. In some cases, farmers are an exception (for example, they may receive subsidies for energy crops).
If you are interested in our offer, please contact us.