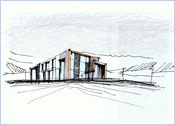 Ecological mission ENIS - Energy, Science and Environment is also reflected at the level of architectural design. 
Architectural design is our passion, which we are trying to focus on customer needs and expectations. In our projects, we are guided by such principles as the functionality of buildings, convenience of use and perfect adjustment to the needs of its users. The whole design process is linked to the principle of financial sense. Simultaneously, our designs take into account the dreams and ideas of customers who always have the option of an initial assessment of the project on the bases of our visualization and architectural concepts.
The combination of dream and reality is the greatest challenge of our team, which then translates into the realization of unique projects and investments. The basis of cooperation are direct contact with the customer, and continuous monitoring of their needs and expectations. It is an investment in the future reliability of our projects and the satisfaction of their users.
Our team will help you at every stage of investment planning from initial concept through creating of a complete documentation to the implementation of the investment process. This allows to easily achieve assumed goals. We have specialized technical knowledge that put together customers' expectations, their financial capabilities, as well as modern and energy efficient solutions in every industry.
We design:
Residential buildings - houses, multifamily buildings,
Public buildings - offices, hotels, guest houses, dining and shopping, schools, kindergartens, sports facilities,
Production halls and warehouses - steel buildings, prefabricated halls, 
In addition to our database there are many suppliers of modern technology, so we have a measurable influence on the possibility of gaining savings in the investment process. 
Given the functionality of the facility, its energy efficiency, aesthetics and a high level of innovation it is possible to achieve high technical and efficiency parameters of designed objects. 
If you are interested in comfortable and energy efficient building project, please contact us.

Building projects, implementing projects - design, consultancy, implementation




Sample Projects: see more