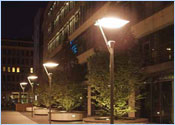 Energy efficient lighting means not only the low power consumption, but also obtaining the parameters of good lighting, security, reliability and comfort.
Another important issue is to minimize the amount of carbon dioxide emitted through the use, installation and utilization of lighting. Both the road lighting projects as well as offices, schools, factories, supermarkets, sports facilities, hospitals and all interiors must meet all these conditions.
The combination of efficient lighting along with intelligent optical systems can guarantee a high level of illumination, while maximizing the safety of the environment.
In our projects we take into account the need for good visibility and comfort because we know that the application of energy-efficient, reliable and safe illumination has a big impact on the overall level of satisfaction. A well-designed, balanced and free from dazzles work place allows to stimulate creativity, and eliminates the stress, and well-chosen street lighting raises the level of safety on the road.
Therefore, our specialists will ensure you:
better idea for lighting,
a draft of a secure, reliable illumination under all conditions,
selection of optimal solutions,
the selection of luminaries and lighting systems,
assistance in obtaining funding for upgrading the lighting.
Our motto is simple - optimal investment and low cost of operation.
If you are interested in our services in the field of modern and energy-efficient lighting, please contact us.