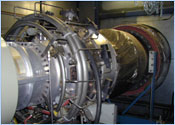 Cogeneration (combined heat and power, CHP) is a form of a simultaneous generation of heat and electrical energy in a single process. In addition, it is achieved with a great reduction of transformation and transmission losses. Also chemical energy of fuel is used with high efficiency which decreases overall costs and carbon dioxide emission as well as other environmental pollution.
We advise our customers to use cogenerators, provided sound technical and economic reasons exist. Producing combined heat and power by one source based on cogeneration has many advantages:
reduction of fuel consumption per energy unit gained,
increasing of process performance,
reduction of transmission losses en route from generator to consumer,
decreasing of CO2 emission,
modular and upgradeable structure,
low noise level – European noise and safety regulations are complied with,
ecological and economical way of energy generation.
And last but not least, cogenerators secure any region they are used in, as far as energy safety is concerned.
If you are interested in use of cogeneration appliances and obtaining relevant funds, please contact us.